The Drüberflieger Strategy
WE BELIEVE THAT A GOOD
STRATEGY CAN GET YOU FAR!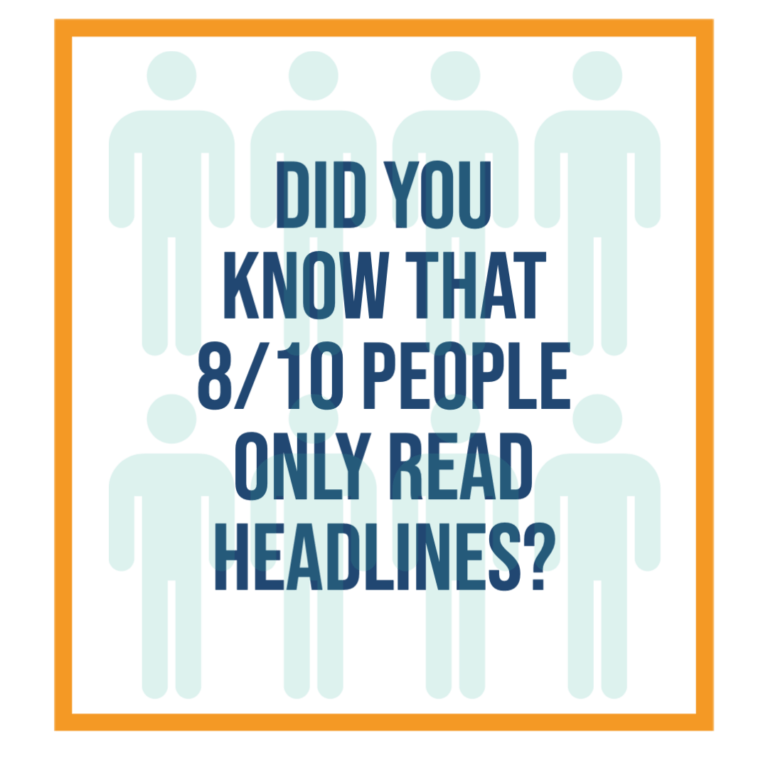 Marketing these days can be very challenging. You need to reach out to a highly demanding audience, while simultaneously competing with many others for attention. However, we believe that nothing is impossible and that a good strategy can get you far.
So how do you get started? Step One: Know your audience!
WELCOME TO THE DRÜBERFLIEGER SOCIETY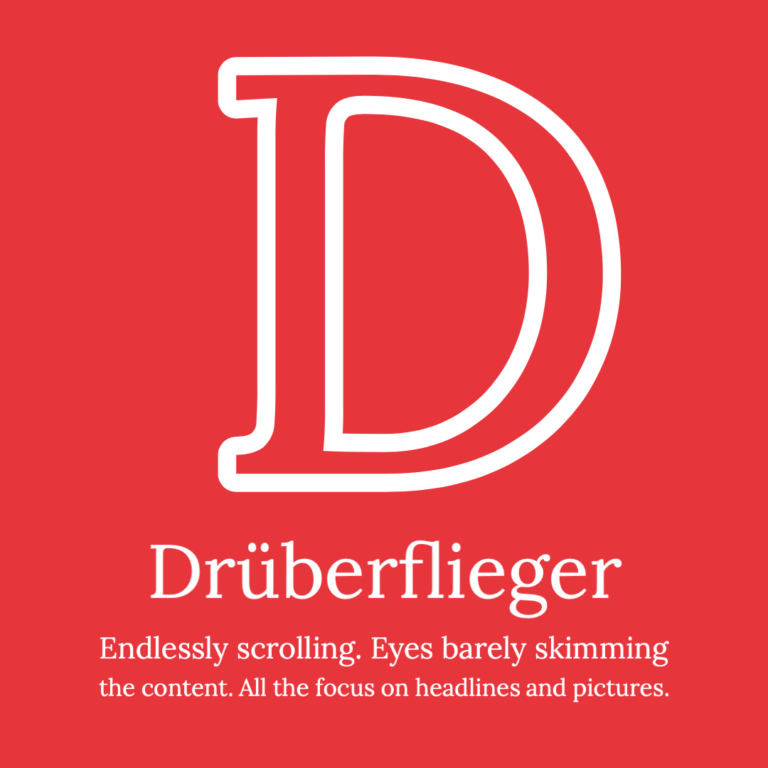 Have you ever observed people on the subway? Everyone is holding their phone, single-handedly navigating through myriads of photos and texts. Scrolling and swiping have become second nature to us. We unconsciously consume the things we see, quickly taking snapshots with every blink. Only rarely, when something really, really captures our attention, we decide to invest a bit more time and take a closer look.
Sound familiar to you? Welcome to the Drüberflieger Society!
Now it's all about developing a suitable strategy to turn Drüberflieger into deep-divers.
FACTS ABOUT DRÜBERFLIEGER
First impressions count! 55% of users spend fewer than 15 seconds actively on a page. A combination of pleasing design and usability creates the magic needed to provide a great user experience.
Time is precious! Users don't like to wait and they appreciate efficiency. Whether a site and its content load quickly is crucial. According to a study by Adobe 51% of consumers would stop viewing content altogether if it took too long to load.
People do judge a book by its cover! An aesthetically pleasing yet easy to understand design is crucial. Within 50 milliseconds users decide whether or not they like what they see. So make it worthwhile!
Mobiles are important! There are 4.2 billion unique mobile Internet users (Statista April 2020). As people often surf the Internet while on their phone it is highly important to have a mobile optimized version of your website.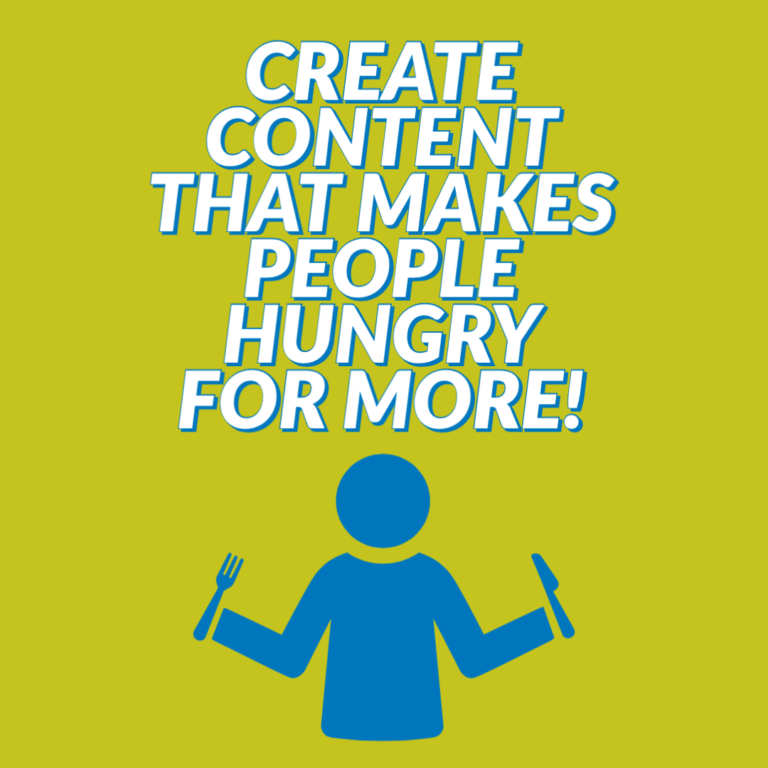 The key to successfully reaching out to users is to create content that is so good that people crave more.
Good content is content that offers value to the user. The better you know the users, the better you can create content that matters.
Here is our recipe for great content. Please only use high-quality ingredients like unique headlines and visual material that you have produced or bought yourself. We recommend spending a little more time creating a heart-warming dish rather than junk food. However, it doesn't have to be haute cuisine.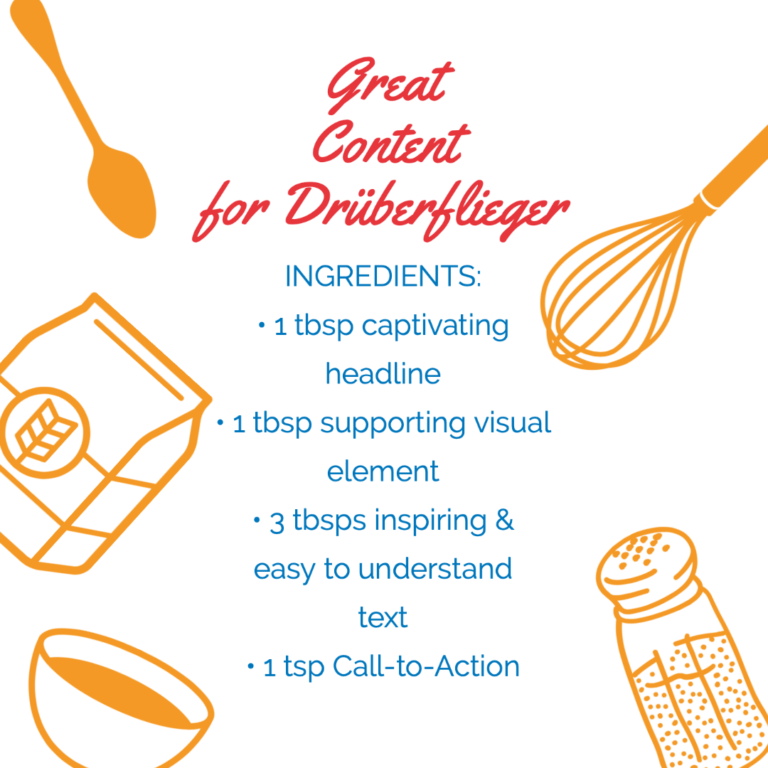 Start with an engaging headline that draws attention to your content and raises curiosity and interest. With an interestingly crafted introduction to your content, the headline functions as a delicious appetizer that makes you excited to try more.
Your main text should be inspiring and offer value to the reader. Everyone should be able to understand what you want to express.
Add a visual element that supports the text. It is the decoration on the plate that helps create an aesthetically pleasing meal; enhancing, but not distracting. What kind of visual element you use is really up to you! It can be a photograph, an infographic, or a GIF. (If your core content is visual, then adjust the measurements accordingly: Key Visual, supporting text.)
Last but not least, add a Call-to-Action to give your content more purpose. The Call-to-Action is an engaging element like "Read more" or "Get in Touch". This element rounds up the whole meal you created. Yum!
ARE YOU UP FOR A CHALLENGE?
We hope your answer is: YES!
Don't worry! You don't have to do everything on your own. We will help you navigate your way through the marketing jungle and support you wherever and whenever you need.